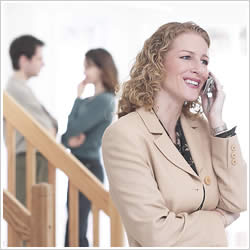 Once you receive an offer on your home, I will review all the terms and conditions of the offer with you. If any of the terms or conditions of the offer are different than the terms indicated in our published listing materials and are not acceptable to you, you have the right to counter the initial offer made with terms and conditions which meet your requirements.
Through this process of reviewing, countering and/or accepting the purchase offer, we will work closely together in order to maintain timely responses .  This can be a stressful time due to the relatively short deadlines and the sometimes complexity of the offer.  My role in this process is to provide you with the professional expertise, facts and figures you need to make informed and beneficial decisions.  My stated goal is for you to maximize the return on your investment as you sell your house.  A person's home is often times the most valuable asset they own and I am very sensitive to your financial situation and needs.
Once the purchase contract is accepted, the clock starts running for many items needed to meet the requirements of the contract and get us to the scheduled closing successfully.  We will immediately order the title work to be delivered to the buyer, their Broker, you and I.  As the buyer completes their contractual tasks, you and I will begin to review the results generated by such items as the appraisal and the inspection report.  Again, this will be a time for focused coordination, and resolution, to any issue that has the potential to preclude us from closing this transaction.  You will be kept informed on the progress needed to meet each and every deadline in a timely and prudent manner.
Once all of the deadlines have been successfully met, we are clear to set our sights on the closing, where you will transfer ownership of the property to the buyer, and most importantly, receive your net proceeds from the sale!